A GLOBAL ODYSSEY OF WONDERS
Exclusive Shoreside Events, Overnight Highlights & Optional Overland Tours…
INTRODUCING…Oceania Cruise 2024 World Cruise! ON SALE STARTING MARCH 2, 2022!
On this 180-day global odyssey departing Los Angeles on January 14, 2024, discover the luxury of exploring the world on a sweepingly profound scale. Join Oceania aboard the luxurious Insignia to revel in 96 vibrant destinations across 34 diverse countries with an extraordinary 24 overnights all in one journey.
Uncover the captivating rhythms of far-flung Polynesian islands as you chart the South Pacific, continuing on to experience the dramatic beauty of New Zealand's fjords and the allure of top Australian cities. Celebrate both iconic and off-the-beaten-path destinations across Asia and encounter exotic locales lining the
Indian Ocean before immersing yourself in an expansive tour of Europe's most enchanting cities.
Oceania's 2024 journey offers the flexibility of an additional option of sailing from Miami on a glorious 196-day itinerary. Along the way, you'll enjoy gracious and warm service, savor The Finest Cuisine at Sea®, delight in an ever-changing array of enrichment and entertainment, and indulge in holistic treatments at Aquamar Spa + Vitality Center. Designed for the seasoned traveler that has dreamed of exploring the farthest reaches of our world, this transformative journey invites you to discover a meaningful connection with cultures spanning the globe.
See the 2024 World Cruise Full Brochure Here >
Watch the 2024 World Cruise Video Here >
See more details below – and book THIS WEEK with owners Bill & Leslie Kraus of Cruise Club of America. World cruises usually sell out in just a few days and you do NOT want to miss this bucket-list experience!
---

---
2024 Around the World Cruise | Top Highlights
1. The incredible kaleidoscope of world wonders, marvelous attractions and extraordinary experiences on this journey is unmatched and will leave you changed. Imagine five continents, 34 countries and 96 ports in 180 days aboard beautiful Insignia. Even the most experienced travelers will be astounded by the sheer scope of this global circumnavigation.
2. This 180-day voyage features a spectacular array of overnights – 24 to be exact – in ports that are a true traveler's dream. Think of the explorations possible: Auckland's renowned vineyards, Tokyo's ancient shrines and traditional gardens, the exquisitely beautiful Ha Long Bay, the many charms of Old Mumbai, the innumerable sacred sites of Jerusalem, the strikingly beautiful landscapes surrounding Reykjavik and so many more.
3. The generous amenities and inclusions create a journey that is all the more luxurious, grand and carefree. Not only will you receive the valuable amenities included with the Exclusive Prestige Package, such as Free Pre-Paid Gratuities, Free Laundry Services and a Free Visa Package, you are able to take advantage of the inclusive OLife Choice* amenities – 78 Free Shore Excursions, a Free Beverage Package or $7,800 Shipboard Credit. All of this is in addition to our 2 for 1 Cruise Fares and Free First-Class Roundtrip Airfare.*
4. Five Exclusive Shoreside Events punctuate the voyage, celebrating the world's most enchanting cultures. Reserved only for the select cadre of guests joining Insignia for the full world cruise, these events bring the local culture to life in entirely new ways. Gain unique insight into the magical lands and wildlife of Australia in Cairns; take in a stunning Chinese acrobatic performance in Shanghai; savor a grand affair of dining, music and dance at the Royal Citadel in Hue; experience a colorful Seville fair with flamenco dancers and delicious Andalusian cuisine; and attend a glorious performance by the exquisitely talented Riverdance troupe in Dublin. Five exclusive events filled with countless memorable encounters.
5. There is a dazzling array of ways to personalize your voyage with dozens of optional Mid-Cruise Overland Programs. A few of our favorite in-depth, multi-day Overland Programs include:
The 1-night New Zealand's Southern Grandeur program from Dunedin that explores Fiordland National Park, cruises to a high-country homestead and even visits a glowworm cave
The 2-night Ancient Luang Prabang program from Ho Chi Minh City that offers a rare, in-depth exploration of Laos' ancient royal capital
The 3-night Himalayan Kingdom of Nepal program from Cochin that immerses you in the culture of Nepal through experiences in Kathmandu, royal cities and a flightseeing tour soaring over glacier-clad, cloud-shrouded peaks around Mount Everest
The 1-night Luxor & The Pyramids program from Safaga that combines explorations of the ancient tombs and temples of Luxor with visits to Cairo's Egyptian Museum of Antiquities and the Great Pyramids and Sphinx of Giza
The 2-night Inspirational Iceland program that delves into nature's drama in the Land of Fire and Ice, transporting you to craters, lava fields, waterfalls, glaciers and more.
---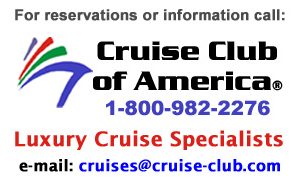 ---
Terms & Conditions:
*Offers and fares are subject to change on 7/1/22. All fares are per person in U.S. dollars, valid for residents of United States and Canada, based on double occupancy (unless otherwise noted), for new bookings only and may be withdrawn at any time. 2 for 1 and Around The World Special Offer Fares are based on published Full Brochure Fares; such fares may not have resulted in actual sales in all cabin categories and do not include optional charges as detailed in the Guest Ticket Contract, which may be viewed, along with additional terms, at OceaniaCruises.com. "Airfare" promotion includes ground transfers and applies to first class, roundtrip flights only from the following Oceania Cruises Primary Air Gateways: ATL, BOS, CLT, DCA, DEN, DFW, DTW, EWR, IAH, IAD, JFK, LAX, LGA, MCO, MDW, MIA, ORD, PHL, PHX, SAN, SAV, SEA, SFO, TPA, YOW, YUL, YVR, YYZ. Oceania Cruises reserves the right to assign gateways based on availability for JFK, LGA and MIA. Airfare is available from all other U.S. and Canada gateways at an additional charge. Gateways are subject to change. First class roundtrip airfare is for U.S. and Canada gateways only. Roundtrip transfers are included for all guests and for residents within 50 miles from the cruise port in Miami or Los Angeles. Restrictions may apply. Any advertised fares that include the "Airfare" promotion include all airline fees, surcharges and all government taxes. Airline-imposed personal charges such as baggage fees may apply. Additional terms and conditions may apply. Free luggage delivery is only available for guests from the U.S. and Canada and is restricted to two 50-pound bags per guest. Free Internet amenity does not include streaming and includes one login per stateroom, except Owner's and Vista Suites, which receive two logins per suite. Visit OceaniaCruises.com/Internet for more details. Free Medical Care restrictions apply. Medical Services included in the Exclusive Prestige Package: Any visits and admissions to the onboard Medical Center, any medical services typically provided by our onboard medical staff for which we normally charge a fee, any medical tests administered onboard (i.e. x-rays, ECG, labs, etc.) and any medications from our onboard pharmacy prescribed by the onboard doctor. Medical Services that are not included: Refills on any prescription drugs not prescribed by the onboard doctor, any and all costs associated with transferring a guest to land-based facility for treatment, emergency medical evacuations charges (i.e. medical escort, transport, etc.) and any other costs incurred off the ship or by an outside provider (i.e. consults with Cleveland Clinic, shoreside referral, etc.). OLife Choice free shore excursions vary by voyage and exclude Oceania Select, Oceania Exclusive, Executive Collection, Food & Wine Trails, Wellness Discovery Tours by Aquamar, Go Local and Culinary Discovery Tours. If shore excursion amenity is selected, all excursions must be chosen at least 14 days prior to sailing. OLife Choice beverage package amenity is House Select. Guests in the same stateroom must choose the same OLife Choice amenity and amenity must be chosen by final payment. Optional Mid-Cruise Overland Programs are available for an additional cost; dates/tours subject to change. All land tours are capacity-controlled and subject to availability. Tours falling under the minimum number of required participants are subject to cancellation. Complete Terms and Conditions may be found in the Guest Ticket Contract. The privacy and protection of personal data is very important to us, and we collect, use, share and secure that data as described in our privacy policy, which is available on our website at OceaniaCruises.com/legal/privacy-policy. Oceania Cruises reserves the right to correct errors or omissions and to change any and all fares, fees and surcharges at any time. Ships' Registry: Marshall Islands.